I've had many a straw hat in my day, mostly bedecked with simple pleated ribbon trim. I decided I wanted an upgrade to go with the Pink Caraco ensemble, and the best upgrade I could think of? A silk-covered hat.
Silk-covered hats (with chip, paper, or other bases) appear in artwork and a few choice extants. Some, like this lovely extant piece, are covered with silk cut to fit the brim and crown separately: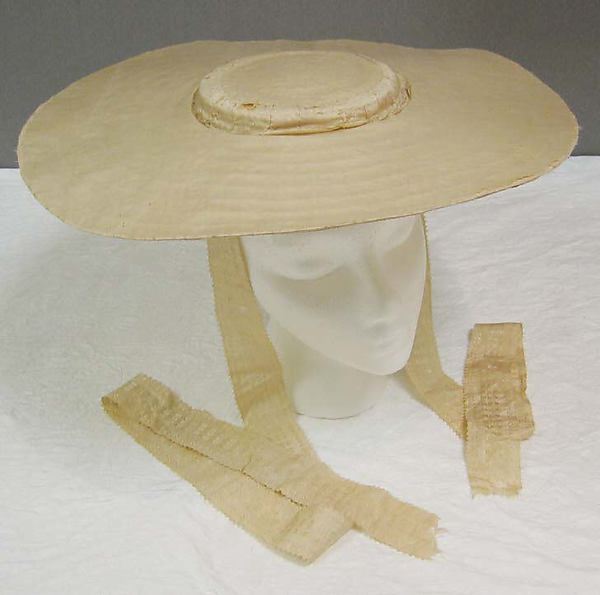 Met Museum, Italian, c. 1720-1750. Accession #
2006.588
Others, like this white and pink number pictured in a print, were pleated--a length of fabric was made to fit the curve of the brim by pleating it:
"The Enchantress" c. 1770 (?) British Museum, Museum #
1953,0214.36
It should be noted that in extants the prior method seems the more common. However, the pleats! They looked so pretty and I wanted to try my hand at them. So I did:
The Challenge: #15 – The Great Outdoors
Fabric: 2 yards China silk (or silk habotai). Scraps of silk tafetta for decoration (to be added later).
Year: Late 18th century
Notions:
Chip hat, white hand-quilting thread, and silk ribbon
How historically accurate is it? Well, it looks pretty good! I haven't been able to see a pleated silk-covered hat close-up in order to view construction, but what little I can glean from images, the silk is pleated and stitched down in this fashion. Silk hats were very fashionable, however, and in my opinion under-represented in the reenacting world.
Hours to complete: 4-ish?
First worn: I'm saving this for the grand Unveiling of the Pink Caraco
Total Cost: $10 for the silk, and I had all the notions already. The straw hat blank will run you around $20, but I bought it as a replacement a while ago and only just decided what to do with it, so I don't recall exact purchase price. I had intended to use an old, beat-up hat as my blank, but the thin silk will show any imperfections of the straw underneath.
So how did it go together? Well, trial and error, mostly. My method was pretty much identical to the one described on
Koshka the Cat's tutorial
, excepting my fantastic "place item on carpet and then stab pins into it with reckless abandon" method addendum. (Really--having some kind of pin-sinkable textile underneath does help in getting the fabric smoothed out.)
My silk was fairly thin, so it's doubled thickness on the brim and quadrupled on the crown.
I did my pleats in a box-pleat that fanned outward, rather than a series of pleats facing the same way. No real reason--I just liked how that looked and couldn't determine if there was an 18th century standard one way or the other, so went with what I liked. The pleating is the tricky part--I experimented with a couple widths of pleats before settling on one that worked. But once you get a couple pleats in, it's smooth sailing.
If I did this over again, I would make the pleats themselves wider so that they folded under more of a pleat to "start" the underside pleating. That would have been a time-and-sanity-saver.
As for trim? Most images show very wide, likely silk, trim around where brim meets crown. I'll trim the piece with scraps from the pink caraco.
Mrs. Oswald, by Johann Zoffany, about 1763-64, The National Gallery