In beginning work on my pink caraco, step one was figuring out exactly how to pattern it. I found inspiration in fashion plates, but had to turn to extants to discern how the garment was actually put together.
Of course, every extant I uncovered was a little different from every other extant. Such is the way with 18th century clothing!
However, a few commonalities emerged:
Shaping through pleats: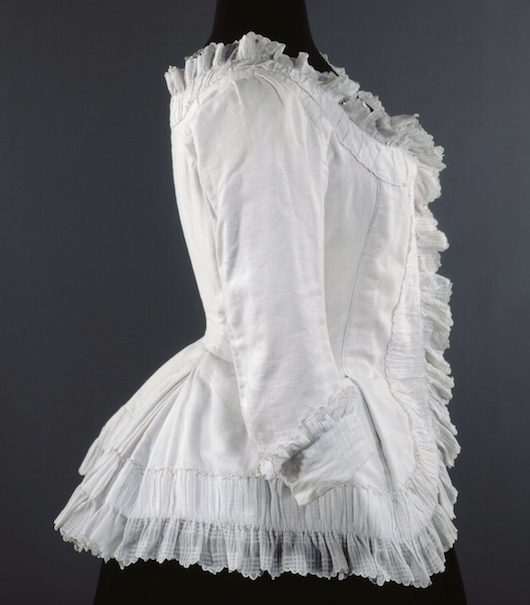 The garments show shaping through the cut of the pieces and released into fullness with box pleats at the hip and lower back. Over a petticoat, this would look even fuller.
Gentle curve at the front: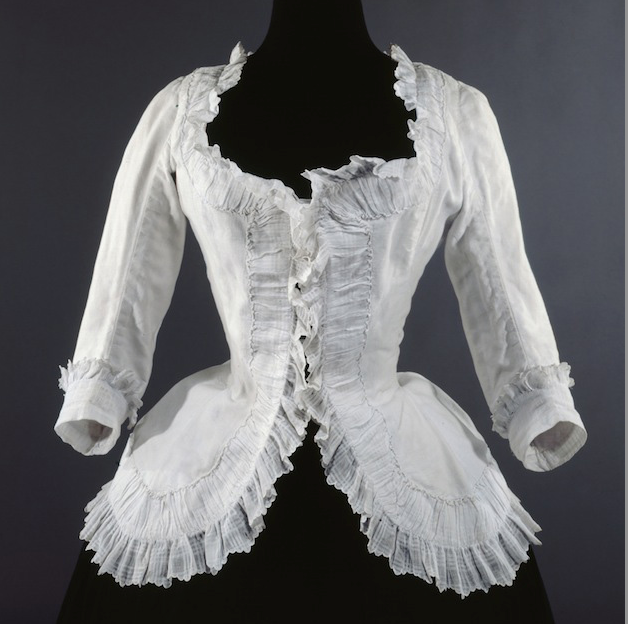 Caraco, entre 1770 et 1780. Musée Galliera, Musée de la Mode de la Ville de Paris. GAL1992.177.X.
The front joins from the top to either the midsection or lower waist, and then slopes gently away at the sides. Consider the difference between this and, say, a gown--which has skirts joined to an endpoint in the bodice, creating a sharp distinction.
Combination of pieced and pleated:
Again, the shape is achieved with both--unlike, say, a "quarter back" gown which is only pieced or an en fourreau gown which is only pleated. It should be noted that other jackets from the period exist whose shaping is achieved through piecing only, such as this example (recreation from a "swallow-tail" jacket in Costume Close-Up):
Another lovely back view:
Caraco , 1785, probably French, silk with ribbon border, Musée Galliera
Found at http://thedreamstress.com/2011/09/rate-the-dress-178s-yellow/
So where did this leave me? A jacket with:
Two back pieces and two side/front pieces (potentially more--you can see from the second example that the back has additional piecing, and the first example that there is an additional piece for the front. I chose to keep this first foray simple).
Pleats where the backs pieces join and where the sides meet the backs.
A closed front (no stomacher) with a gently curved opening at the front skirts.
Sleeves (duh) set, from all I could tell, in similar fashion to most other 18th century sleeves. I made mind 3/4 length as this seemed common from extants and fashion plates and, frankly, I like 3/4 sleeves best.