The 1780s stays are nearly finished. I feel like I've had a giant fight with them, mourned what they could have been with fewer problems, and come to accept them as they are. Before unveiling them in all their not-quite-glory, I thought I would share where they came from, and why they're different from the stays I already have.

First up--the inspiration for the stays comes from these beauties from the Victoria and Albert museum.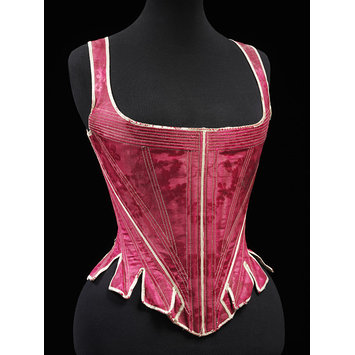 Noteworthy about theses? It's best in comparison with an extant pair that most closely mirrors my current stays:
These are from the Met, and besides being a bit more careworn, they have some distinctive differences.
1) Straps. Denoting these as probably a lower-to middling-class woman's set, as straps restrict movement further and were more often used in upper-crusty stays. They keep the shoulders back, further improving the proper, upright 18th century posture.
2) Boning. See how these achieve their shape and ability to support through heavy boning? The V&A uses a more strategic approach--shaped pattern pieces and angled boning lend the garment its shape and the wearer the proper support.
3) Shape. The beige stays are basically conical. The red ones, however, are a bit more nuanced--the front is flatter, and they are broader across the bust and nip a bit more at the waist. As the 18th century progressed, less cone, flatter front, more emphasis on the bust became more fashionable. This is, as I'm sure you can tell, due in large part to the shape of the side pieces--whereas the beige stays have basically straight-up-and-down pieces, whereas the red stays have a rather extreme diagonal bent to the sides.

For example of absolutely breathtaking recreations of these stays, visit Bridges on the Body and The Aristocrat. I find the second example to be particularly droolworthy and the seamstress in question is lucky I can't afford to fly to Finland and steal them.
Then, come back later this week for the unveiling of my not-quite-as-impressive first attempt at staymaking, as well as a breakdown of what went well--and what will be done differently next time.