So, I'm not entirely sure why I resort to French when trying to sound stylish. C'est probablement ridicule.
But! Lovely historical clothing blogger Abby of
Stay-ing Alive
AND delightful historical fiction blogger Caroline at
Caroline Wilson Writes
both awarded me the Stylish Blogger award, within days of one another. Must be something in the water!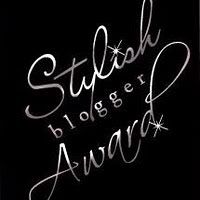 First things first--go check out these ladies' blogs, pronto.
Ok. Done? Moving on.
The award requires that I a) list seven stylish things about me and b) nominate seven other fellow bloggers. (I'm going with
Abby's version
here...it, um, seemed easier than
Caroline's
ten things. And wow! Talk about an interesting example of internet telephone, how both versions are just a little different.) Abby was right when she said seven stylish things are hard to think of! Here's to hoping you all don't think I'm a frump.
1) I have a thing for red shoes. I like red in general, but red shoes--that's where it's at. I have red flats, red pumps, red vintage-y t-straps. All in that rich oxblood red shade that goes with anything. No red shoes? You're wearing a t-shirt and jeans. Add red shoes? It's an outfit.
2) I love natural fibers. I'm a fabric snob. Completely. I have rejected clothing items for having too much synthetic fiber. I love silk, love wool, love that gorgeous cotton-silk blend poplin that's finally catching on. Love sheer, wispy cottons. Love thick, hearty wools. Can't get enough silk. I'm learning a lot about laundering delicates and I take a lot of stuff to the dry cleaner, but it's worth it. But I swear it makes your clothes look more classic, more expensive, more like you meant them when they're natural fiber.
3) I hated skinny jeans until I tried them. I was convinced that I would look like a porker in skinny jeans. I finally bought a pair for the sole purpose of wearing with my boots. So, I was completely wrong...and nothing suits me as well as dark-washed slim jeans. It's all I wear now in the denim department. Lesson learned--don't knock it til you try it.
4) I don't dress literally vintage or historically in my day-to-day life--there are times I would like to, but for the most part it's a touch too impractical. But--I love wearing vintage or reproduction dresses for special occasions, and popping in a vintage element here or there with my "normal" clothes--clunky 50s earrings, t-strap shoes, my "Campus Queen" brand cardigan, a fab bright red vintage jacket I have.
5) A lot of my vintage clothes are heirloom finds--great-aunt Georgie's Pendleton double-breasted coat, jewelry fished from my Grandma Ruby's drawers, my Nana's cashmere cardigan. I love that I know who wore this stuff, and that I'm giving the pieces new life!
6) Nothing beats having neatly kempt brows and a good haircut. No amount of makeup or styling. When you're pale and dark-haired like me, the contrast is huge--and even more important. I love my stylist. And my brow girl. I feel like a pretentious twit having a brow girl. But it's so worth the $12 I spend every couple months. To balance my high-maintenance salon needs? My favorite beauty product is Burt's Bees tinted lip balm (Rose is the best shade IMO).
7) If you want to know what my favorite clothes are, just scroll through the reenacting/living history/sewing project photos on here--I am happiest when I'm wearing my stays and a pile of petticoats, and I feel prettiest then, too!
Now, the second part of the award! I am terrible at selecting favorites from the awesome blogs I read. So here's the deal. Leave a comment about YOUR style--anything that makes your style yours. In return, I'll give away a free brand spankin' new Burt's tinted lip balm to one commenter. Deal? Good. PS Smart Me would have included a deadline here the first time. Smart Me was clearly on vacation. Post your comment by April 15 to be entered for a freebie :)