The first inspiration for this gown was the sale rack at Hobby Lobby. I was perusing the fabric when I found a gorgeous silk taffeta, woven with a fawn-gold stripe. Love at first sight, but it had to be too expensive, right?
Nope, it was marked down to $2.99 a yard.
It had to be a mistake. I casually sauntered over to the nearest salesperson and inquired about the pricing of the sale items. "Oh, whatever sticker has the lowest price."
I quickly retrieved the bolt and bought all eight remaining yards.
It soon became my eighteenth-century wedding dress, a simple robe a l'anglaise with very little trimming--I didn't have much time to complete it. But the dress isn't really the point, is it?
Our eighteenth-century ceremony was held at a historic house where we have a fall market fair encampment. (We had a modern wedding, as well, but who really cares about those clothes?)
But what to do after the big day? Keep wearing the dress, of course. Unfortunately, transitioning into a ballgown wasn't the most practical--most of my events are daytime events, and a full-on dress gown would be out of place.
Then I found this in the Kyoto Institute's online archives: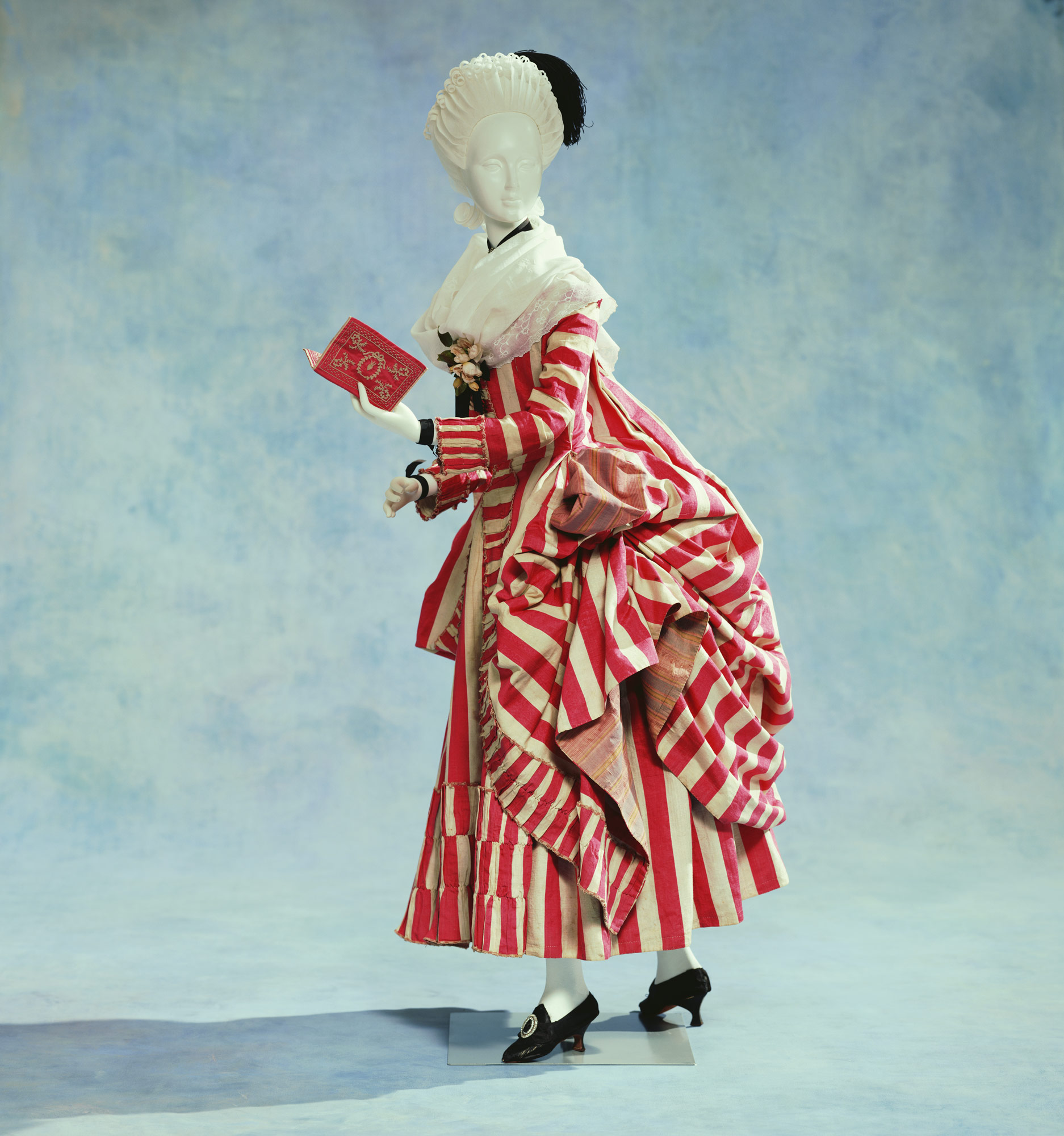 It's a walking gown, with the skirts "retrousee dans les poches"--which is French for, roughly, yanked through the pocket slits. In the late eighteenth century, walking as a pasttime became quite popular for the upper classes when the French picked up on the habit from the English. Gowns designed with shorter skirts and petticoats and featuring rucked-up skirts (the long part of the gown) became fashionable.
And the red color scheme with stripes made me think quickly of the red silk--my wedding gown had found new life.
A few key differences--I did not create a matching petticoat, but instead wear either a gold or fawn colored silk taffeta petticoat (I layer the other one underneath for extra swishiness when walking). Also, this gown is a saque--it has the wide back pleats of a robe a la francaise, and I prefer the fitted anglaise back. Finally, I didn't do a retrousee dans les poches style--rather, I chose to create a polonaise style. One creates these "bum poufs" as I call them by tucking the gowns' skirts under themselves--much like modern French bustles on wedding gowns.
Sadly, I have no pictures of myself actually walking in the gown--though I have taken many lovely strolls--but have some shots from a Christmas party and dance I attended. This is probably the best full-length shot--you can see the simple white engageante on the sleeve and the full, drapey bum pouf. I don't wear much jewelry--just a simple pair of paste earrings.
I have such well-dressed friends with whom to converse. A note on underthings--of course, the requisite shift and stays, and an additional petticoat (again, the swishiness!) I also wear a false rump to accentuate the polonaised back. I've added a kerchief around the neck here, though this is an evening event and kerchiefs were often ditched in the evening--but this gown is so low-cut that I prefer a little extra coverage. My hair is dressed, but I'm not wearing a cap, as it's evening.
More well-dressed friends. When I wear this gown for walking, I wear a shorter petticoat--my fawn-colored one, which hits my lower-midcalf. This would have been fashionable and completely acceptable for the period--though this has caused one of my most common "tourist" questions at events to be "Aren't your skirts too short?" I simply reply, "No, you have me confused with another era."
Aren't new uses for old things fun?