Ah, yes. Plan 9. If you haven't seen the celluloid abuse that is
Plan 9 From Outer Space
, get thee to a rental place or Netflix and view immediately. Considered by many to be the worst film ever made, Edward D. Wood Jr.'s
Plan 9
has everything wrong with it--crappy acting, terrible writing, laughable sets, wacky editing choices. An example of the absurdity: Star of the film Bela Lugosi died before filming was complete, and a stand-in who looks nothing like him is used for the rest of the film. He holds a cape over his face, so you "can't tell." Another example: The flying saucers are clearly pie plates glued together and suspended by (visible) strings, making the world's wobbliest spacecraft.
But the worst might be the plot. The strings holding the story together are, unfortunately, much more tenuous than those suspending the pie plate saucers. In short, it's not one of those "good story, bad execution" problems--but I managed to glean some lessons for writing while giggling uncontrollably at the chaos.
You Can't Do It All : Cross-genre works are great. It's fun to read a romance with urban fantasy elements, or a historical mystery. But try to do too much and you have a hot mess. That's what happens with Plan 9. Somehow, Ed thought it would be a good idea to combine aliens with zombies with hardboiled cops with a nice newlywed couple with an anti-nuclear-weapons message. Yeah. And I had you thinking "bad idea" at aliens and zombie. Even the plan itself is a bit of a mess: Famously, the titular plan is "a long-range electrode shot to the pituitary gland of the recent dead" bringing them back to life. Sort of. Performed, of course, by the aliens. Lesson learned: Pare it down. Decide what the most important elements of your story are, and develop them into strong storylines, rather than creating plot soup of half-baked ideas (and how's that for mixing metaphors?).
The Character/Plot Balance
: It can be debated into the ground whether characters or plot come first in developping a story. A lot may come down to whether it's an action-driven, plot-heavy story or a cha
racter-driven literary work, but regardless, there needs to be a balance. The plot nor the characters can drive the story by themselves--at least without it crashing and burning. One of the main problems with
Plan 9's
plot is that Ed Wood seems to have taken the collection of characters he had, and built a story around them. And who did Ed have to work with?
Vampira
, a late-night movie host who looks like, well, a vampire.
Tor Johnson
, a gigantic Swedish wrestler whose other film roles include "wrestler" "torturer" and "Lobo." And
Bela Lugosi
--or, more apt, stock footage of Bela Lugosi salvaged from another film Ed tried to shoot with him before he died. Stock footage that happens to include him bumbling about outside his home and standing in a cemetery. What else do you do with that creepy/kooky cast of characters but make a movie about alien-controlled undead? Ok, probably a lot of other ideas come to mind. But the lesson is, take a balanced approach to what goes into the work, and be flexible. Not every character who pops into your head needs to go in this story. Save some. Work on the plot, and see what characters the story might need. Stretching a story to fit characters that don't quite work is quite likely to produce something pretty warped.
Keep it Straight
: Inventing strange new people, places and things is part of the fun of writing. But when you can't keep your newly formed creations straight it just comes across as sloppy. Take the ultimate destructive weapon in
Plan 9
: Solarite. Or maybe it was Solarmite. Or Solarmanite. Let's ignore the fact that a chain reaction weapon that "explodes particles of light" is a pretty goofy idea and just go with the problem that it's called at least five different things throughout the course of a rather short movie. Lesson? You're the creator--if you can't keep your creations straight, no one else can, either. One particularly good idea for complicated stories and series is to make your own cheat sheet--more on this found
here
and also
here
.
And not exactly Plot-Specific, but...
Dont' Cut Corners
: All the elements of writing and editing are har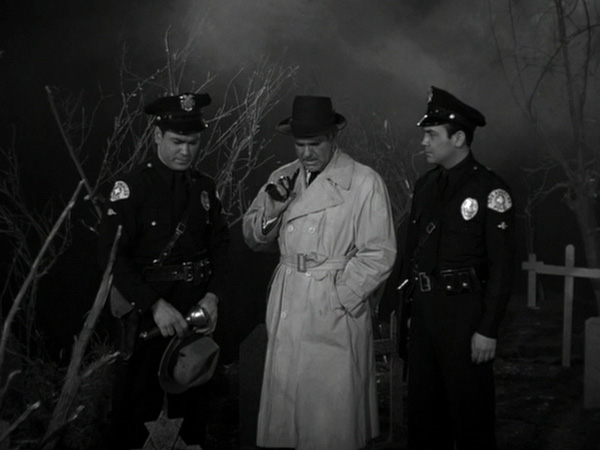 d work. It takes a lot of effort to ensure cohesion and smooth styling. And it's funny--the less attention you pay to the details, the more your audience's attention will be drawn to them. You want to create a flowing, realistic picture, but when something sneaks in that doesn't belong--an odd POV switch, an incongruous character trait,
a police officer who gestures and scratches his head with his gun (
above right
), a scene that goes from daylight to night back to daylight again in the space of two minutes
(Ed, come on!), the audience snaps away from the story and stares at that sore thumb jabbing its way into the scene. So, as they say, the devil is in the details, so keep an eye on them. Ed didn't. Learn from Ed.
And, in the meantime...

Do yourself a favor and escape with some popcorn and some Ed Wood awful-ness.