Lua over at
Bowl of Oranges
posted a wonderfully optimistic, happy post last week. It's just a list--ten things that make you happy. But what a joyful thing to think about--and I tend to think that joy begets more joy, so in honor of spring and its inherent happiness, a Happy List of my own, shortened to five things (I'm saving five for later because anticipation also makes me happy).
1) Redbuds. The redbuds are blooming in Indiana. They are my absolute favorite thing that blooms, more cherished than peonies though they don't have the glorious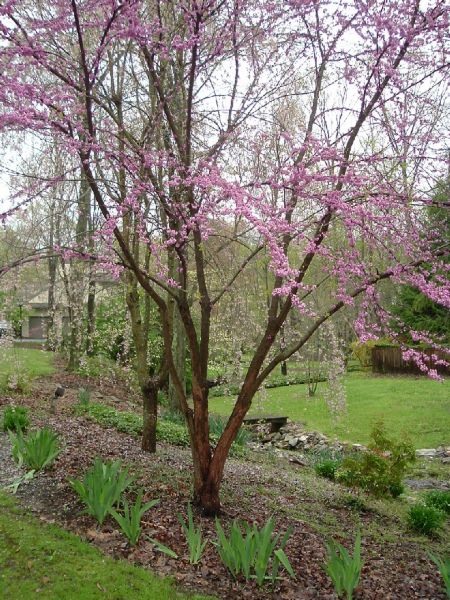 fragrance, more anticipated than the snowdrops though they come later, once spring is already settled. The blossoms are tiny and simple, nothing like the blowsy magnolias or sweet crabapple. But they create a purple mist along the roadways, in the clearings, along each wooded path. I love them, for finding them is to make a discovery.
2) Discovering a good wine. Like the Argentinian Torrontes I just uncovered or the Petit Syrah with the lovely scripty label. Then sipping it luxuriously from my good crystal whilst sitting in crappy plastic patio furniture on my postage-stamp back porch, overlooking the trees and ignoring the parking lot behind them.
3)
Locust Grove
. Will be there this weekend and that makes me supremely happy. Some people call Disneyland the happiest place on earth. I say it's Locust Grove.
4) Baking bread. I make a mean foccacia. There's nothing so soothing as watching the yeast come to life in the little well of hot water in the flour, nothing so cathartic as kneading the dough against my slab of an oak table, nothing so delicious as warm bread dipped in olive oil with rosemary and Parmesan.
5) Walking barefoot in fresh spring grass. It will get rougher and burnished by the sun later on, but for now it is sweet and soft and deeply green. A friend and I used to get Happy Meals (no, really, with Apple Dippers) and take barefoot walks by the creek on our college campus. Perhaps we should do that again...
And...giving things away! Drop down to the
Leaky Bookshelf Giveaway
to score a book :)